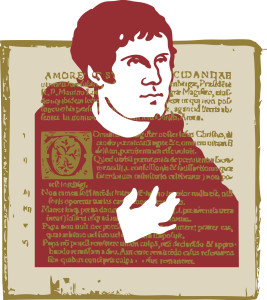 "This epistle is really the chief part of the New Testament, and is truly the purest gospel.  It is worthy not only that every Christian should know it word for word, by heart, but also that he should occupy himself with it every day, as the daily bread of the soul.  We can never read it or ponder it too much; for the more we deal with it, the more precious it becomes and the better it tastes." – Martin Luther, "Preface to the Epistle of St. Paul to the Romans" (AE 35:365)
At the heart and core of Luther's teaching was his "rediscovery" of the Scriptural truth that believers are saved "by grace through faith for the sake of Christ".  Many of Luther's insights into this gift of God to us came through his study and teaching Paul's Epistle to the Romans.
A new book, Reading Romans with Luther, by Lutheran Pastor RJ Grunewald, will serve as a guide for our study of this important New Testament letter.  Gathering many of Luther's comments on Romans into the significant themes in the letter, we will come to see how both Paul's and Luther's words are important for us today, especially as we are reminded that the grace which God shows to us is a gift, not something we need to earn.
The book, Reading Romans with Luther, is available from Pastor, or for purchase by ordering it through either Concordia Publishing House (www.cph.org) or through Amazon (in book format or for your Kindle).
Join us on Wednesday Evenings at 7:00 PM in the Multi-Purpose Room as we grow together in God's Word through our study of the Letter to the Romans, or join us through your own self-study of the book.
The Study will follow the chapters of Reading Romans with Luther in order, with breaks for Ash Wednesday and for Holy Week and Easter Week.
Wednesday, February 15th
"Exposed"
Wednesday, February 22nd
"The Human Condition"
Wednesday, March 1st
No Study — Ash Wednesday
Wednesday, March 8th
"A Worship Problem"
Wednesday, March 15th
"The Old Man"
Wednesday, March 22nd
"Law and Gospel"
Wednesday, March 29th
"The Bad News"
Wednesday, April 5th
"The Power and Primacy of the Gospel"
Wednesdays, April 12th & 19th
No Studies during Holy Week and Easter Week
Wednesday, April 26th
"Righteousness"
Wednesday, May 3rd
"Sinners, Saints, and the Simul"
Wednesday, May 10th
"Suffering"
Wednesday, May 17th
"Grace that Changes"
Wednesday, May 24th
"Gifts"